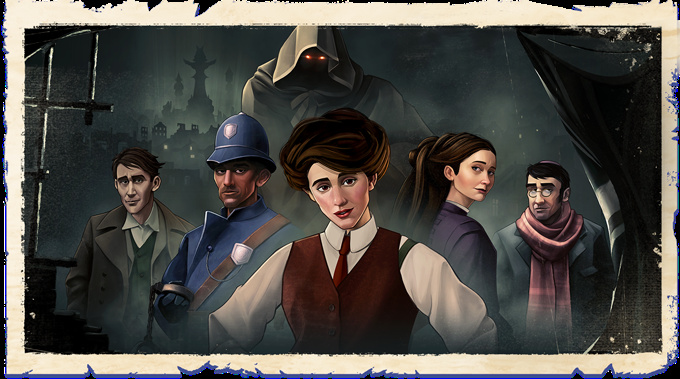 Failbetter Games, the developer behind Fallen London, Sunless Sea, Sunless Skies, and long-time fans of placing scary adjectives next to big places, launched their newest Kickstarter today to fund Mask of the Rose, an upcoming romantic visual novel about "love, mystery, the restructuring of society after profound change, and bats."
Mask of the Rose is a game set in the gothic, smoggy underworld of Fallen London, in which the capital city has been sunk into the earth and everything is more than a little unsettling. With a bunch of locations to explore, people to talk to/kiss, and a murder to solve, will there even be time to find love? Do you even want love in a place like this?
Given Failbetter's track record of fantastically complex narrative branching, Lovecraftian spookies, and dark humour, it's not particularly surprising to see their legions of fans rush to support the game. With a £90,000 goal to obtain over the next month, the Mask of the Rose Kickstarter has already hit over £50k, 1,235 backers, and has hit at least one of its Goals.
Unlike most Kickstarters, the Goals are not Stretch Goals, but "Social Goals", so rather than achieving financial targets, the developers are asking for the following:
1000 Kickstarter backers
25 Mask of the Rose fan art
50 love poems on Twitter (with bonus points if it makes them cry)
25 Feast of the Rose themed pictures
7 photos of Masters
25 cats as bats
15,000 views on the Mask of the Rose trailer
Upon hitting five of those goals, Failbetter will release a code for a Mask of the Rose-themed gift for players of Fallen London. Upon hitting seven goals, another gift code will be given out. The team promises "more goals and rewards" will be revealed as the campaign progresses.
The tier rewards include digital Steam copies of the game, lore books, soundtracks, and even exclusively-scented candles that smell like books and iniquity.
There's only two spots left for the £2,500 backer tier, which comes with a custom cameo based on your likeness and the ability to add any character from Fallen London to the game, so if you're interested (and loaded), you can check out the Kickstarter here.
Failbetter are committing to June 2022 for the game's release on Switch and other platforms, but hoping to be finished by the end of 2021.
Are you excited for another game set in Failbetter's Victorian London? Let us know in the comments.